iFlawless Argan Oil with Gold Flakes 15ml
Our legendary Argan Oil with Gold Flakes is the ideal product to give skin a natural boost. It absorbs easily and is non-greasy and non-irritating, which makes it a great natural moisturiser. It is easy to use all over the body, including the face and neck.
How to use it
Shake well before use. It can be apply on your face or lips as a moisturiser. 
Step 1: 2 drops on your face before apply foundation
Step 2: 2 drops on your foundation
Step 3: 2 drops on your make up brushes

When to use
Use 2 times a day (day and night) or before put your make up on.
Customer Reviews
100
reviewers would recommend this product
Write a Review
01/24/2020
Iren
Malaysia
I recommend this product
argan oil
Bebas dr dullskin n skin xsekata.. Muka nmpk cntk bersih.. Kali 2 sy bl.. Tp yg frst blom abis.. Tp kesan ye mmg awesome..
Hye ireen. Terima kasih kerana tinggalkan feedback positive kepada kami. wow pengguna setia Minyak Argan Emas. teruskan guna untuk kawal kelembapan pada kulit wajah. Lepas ni, boleh cuba blend dengan foundation untuk dapatkan glowing effect. check inbox sebab ada special surprise!
01/10/2020
KHALIDAH A.
Malaysia
I recommend this product
Argan oil
Pelembap yg sgt bagus pd saya..once pakai,rasa kulit lembap je..bila pakai sblm mekap,mekap jd cantik n rata je..ni kali kedua sy beli(beli 2 botol trus harga sale,nk buat stok). Tq i flawless
Wah penguna setia Minyak Argan Emas iFlawless ni. Terima kasih Khalidah atas feedback & review. Boleh titiskan di bibir sebelum apply Lip Matte. Bibir akan nampak lebih moist taw! Cuba ok. Semak inbox email Khalidah untuk special surprise dari iFlawless.
01/09/2020
NOOR S.
Malaysia
I recommend this product
Minyak argan terbaik
So Far untuk penggunaan pertama sahaja dah buat jatuh cinta. Sy jarang guna utk mix kn dengan fd, sy just sapu setiap hari pagi n malam lepas cuci muka.. kDg tu buat double clenasing dengan argan oil tu..sngat moist muka, xbermiyak,die bersihkan segala kesan makeup dengan baik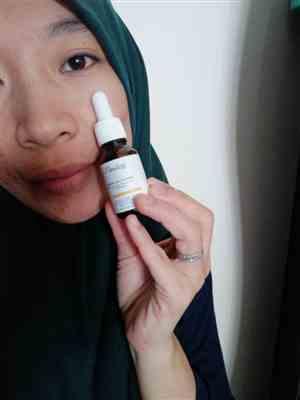 Hay Saidatina. Tq for the feedback & honest review untuk Argan Oil. Absolutely, Argan Oil iFlawless memang untuk dihasilkan sebagai pelembab muka. Teruskan guna dengan konsisten ya untuk hasil yang lebih positif. Semak inbox email sebab kami ada special surprise untuk uolls.
01/03/2020
siti m.
Malaysia
I recommend this product
Argan oil
sangat best muka nmpk lagi flawless..xde lg mslh kulit kering.
Hye Mariam. wah seronoknya kami terima feedback dari Mariam. Keep using it ya. Minyak Argan Emas iFlawless juga boleh digunakan untuk blend dengan foundation. Untuk dapatkan effect 'glowing'. Cuba taw & kongsikan pengalaman Mariam dengan kami. Semak inbox email Mariam sebab kami ada special surprise untuk Mariam.
12/25/2019
Nor A.
Malaysia
I recommend this product
Best best
Kulit rasa moist ja bila pkai.. Love love..